New release of Guitarix
Guitarix version 0.34.0 has just been released. One of the most interesting new additions includes the ability to download Guitarix presets directly from musical-artifacts.com, without leaving Guitarix's interface. You will now see a new 'Online' button in the preset selection area of Guitarix. Clicking on this will pop up a window from which you can download presets. Click on whichever preset you wish to download and it will download directly into Guitarix's preset selection area.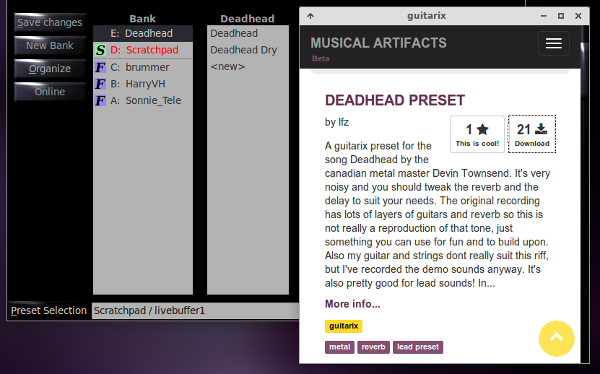 This new release also adds the following new plugins and emulations -
BOSS OC-2 partial emulation
Gx_hogsfoot.lv2 gx_mole.lv2 and gx_rangem.lv2
Gx_plugins AxeFace, BassFuzz, Buzz and the Mole
Gx_Wah.lv2 plugin
Colorsound bass wah plugin emulation
Roland Wah add Jen Bass Wah emulation
Bitdowner distortion plugin
For full details on this new release, check out the announcement over at Linux Audio.