Drumgizmo 0.9.14 is released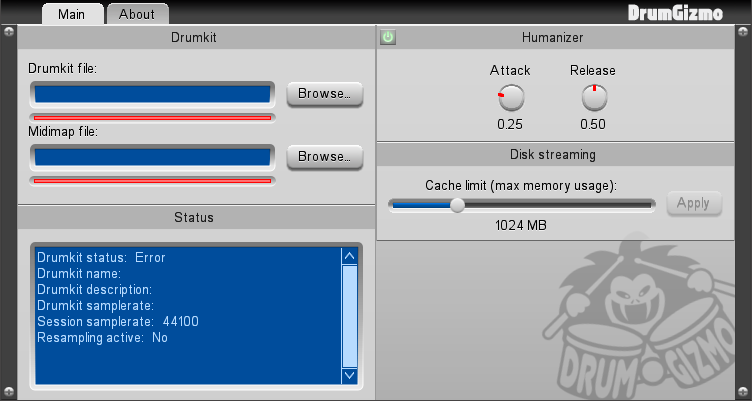 The Drumgizmo team have officially announced version 0.9.14  of their drum sampling plugin.
DrumGizmo is an open source, multichannel, multilayered, cross-platform drum plugin and stand-alone application. It enables you to compose drums in MIDI and mix them with a multichannel approach. It is comparable to that of mixing a real drumkit that has been recorded with a multimic setup.
Drumgizmo 0.9.14 is a bugfix release, fixing many reported bugs from the previous version, 0.9.13.
As is a bit of a tradition for the DrumGizmo team (and many other fine open source projects), they have prepared this special release for the upcoming Linux Audio Conference. This year the conference takes place in Saint-Etienne, France from May 18-21 2017 ... and the Drumgizmo team will be showing up! So be sure to take note of "The cool guys with the drumsticks". You might just secure yourself one featuring a nice DG logo created with the custom made lasercutter from Open Space Aarhus.
If you aren't aware, the previous version of Drumgizo introduced diskstreaming support, a long anticipated feature. Versions of Drumgizmo before 0.9.13, loaded samples exclusively into RAM, meaning systems with lower system RAM than the size of the sample kits were unable to use Drumgizmo. This is no longer the case as Drumgizmo can now play samples not only from RAM but can also read samples directly from disk. The mix of RAM/diskstreaming Drumgizmo uses for sample kits can be configured to best suit your system. So, if you've been unable to previously use Drumgizo due to system limitations, now is the time to revisit it and see what it is capable of.
There are currently 5 drumkits available from Drumgizmo's website, including the recently released CrocellKit.
For the full list of changes, check out the changelog over at drumgizmo.org