LSP plugins
Primary tabs
Screen dump: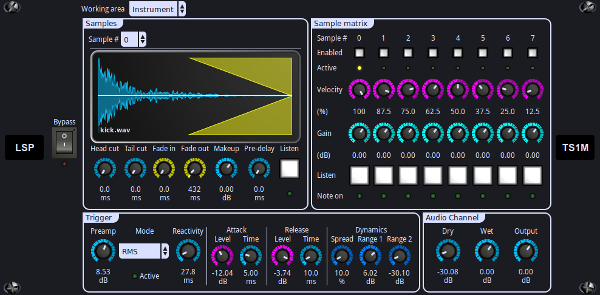 LSP (Linux Studio Plugins) is a collection of plugins which aims to bring new, non existing plugins to Linux. All LSP plugins are available in LADSPA, LV2, LinuxVST and standalone JACK formats.
The plugin suite consists of the following -
Grafischer Entzerrer - Graphic equalizer
Klangerzeuger - Single-note MIDI sample player
Parametrischer Entzerrer - Parametric equalizer
Phasendetektor - Phase detector
Schlagzeug - 3 versions. 12, 24 and 48 instrument MIDI sample players
Kompressor - Compressor plugin
Sidechain-Kompressor - Sidechain compressor
Spektrumanalysator - Multichannel spectrum analyzer
Triggersensor MIDI - Trigger
Verzögerungsausgleicher - Phase adjuster
Dynamikprozessor - Dynamic processor
Impulsantworten - Convolution plugin
Impulsnachhall - Impluse reverb plugin
Expander - Expander plugin
Sidechain-Expander - Sidechain expander plugin
Gate - Gate plugin
Sidechain Gate - Sidechain gate plugin
Oszillator - Oscillator plugin
Slapback Delay - Slapback delay plugin
LSP plugins use a donate system to open up the source code for individual plugins within the suite. You can follow the progress of this on the projects download page. Published LSP source code can be found at sourceforge. If you appreciate Vladimir's work, you can make donations over at his bountysource page.
You can check out the projects dedicated youtube channel for demo videos.