Radium
Primary tabs
Screen dump: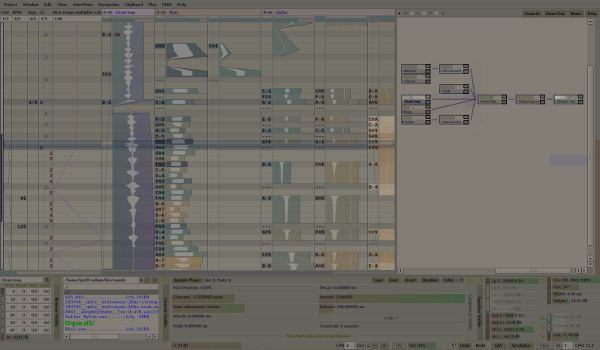 Radium is a music editor of the "tracker" family. Trackers are sequencers that display music data on a vertical, top-down list of notes and effects data.
From the Radium website description :
Compared to the normal sequencer interface editing is quicker and more musical data fits on the screen.
Compared to trackers, note positions and effects are edited graphically, which should be quicker, provide more vertical space and give a better musically overview.
However, despite its unusual appearance, it's a design goal for Radium to be straightforward to use, and easy to learn. It should not be harder to learn Radium than any tracker or most midi sequencers.
Some Features
Velocity automation
Effect automation
Pitch automation
Tempo automation
Smooth scrolling
MIDI sequencing
Optional piano roll
Tickless.
Modular mixer.
LADSPA and VST plugins
(More than 100 LADSPA plugins are included in the OSX and Windows versions)
Several built-in effects and instruments
(virtual instruments, etc.)
Pure Data embedded.
(Linux only for now)
Zooming
Microtonality
Perfectly tuned default color scheme
Extension language support.
(Write programs that generate music or modify your songs)
Scores can be generated with Common Music Notation (CMN)
Open source