LSP Plugins version 1.0.14 released!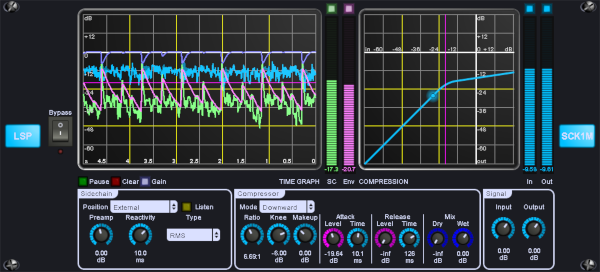 Vladimir Sadovnikov has just released version 1.0.14 of his audio plugin suite, LSP plugins. All LSP plugins are available in LADSPA, LV2, LinuxVST and standalone JACK formats.
With this release, Vladimir has added compression plugins to the suite. This includes a standard compressor, as well as a sidechain compressor. Both of these plugins are available in mono, stereo, left/right and mid/side configurations. They also take advantage of the inline plugin display that has featured in Ardour since version 5.
There are also lots of bug fixes and small improvements. You can check out the full changelog here.
The suite has seen regular releases lately and now consists of the following plugins in various channel configurations -
Grafischer Entzerrer - Graphic equalizer
Klangerzeuger - Single-note MIDI sample player
Parametrischer Entzerrer - Parametric equalizer
Phasendetektor - Phase detector
Schlagzeug - 3 versions. 12, 24 and 48 instrument MIDI sample players
Sidechain-Kompressor - Sidechain compressor
Spektrumanalysator - Multichannel spectrum analyzer
Triggersensor MIDI - Trigger
Verzögerungsausgleicher - Phase adjuster
LSP plugins use a donate system to open up the source code for individual plugins within the suite. You can follow the progress of this on the projects download page. Published LSP source code can be found at sourceforge.
If you appreciate Vladimir's work, you can make donations over at his bountysource page.